2016 Annual Star Awards
Each spring, the Over-the-Rhine Chamber of Commerce recognizes outstanding individuals and businesses in Over-the-Rhine during its Annual Star Awards event. Thank you to the 400 attendees who came out to celebrate at this year's Star Awards event held at 4 p.m. on March 16, 2016, featuring keynote Harvey Lewis, Ultra Runner, public speaker and educator at SCPA. The event was held at The Transept.

Thank you also to everyone who submitted nominations this year!


Congratulations to the 2016 Star Award Recipients:
MORTAR, Chairperson's Award
Woodward Theater, Norma Petersen Arts and Culture Award
Chatfield College, Property Development of the Year
Sundry + Vice, New Business of the Year
The Transept, Business of the Year
Red Door Project, Individual Contribution of the Year
OTR Community Housing, Nonprofit of the Year
Cydney Rabe, Off the Vine and Core Movement Studio, Entrepreneur of the Year
Taft's Ale House, Restaurant of the Year
Future Leaders OTR, Community Impact of the Year
Thank you to our 2016 sponsors: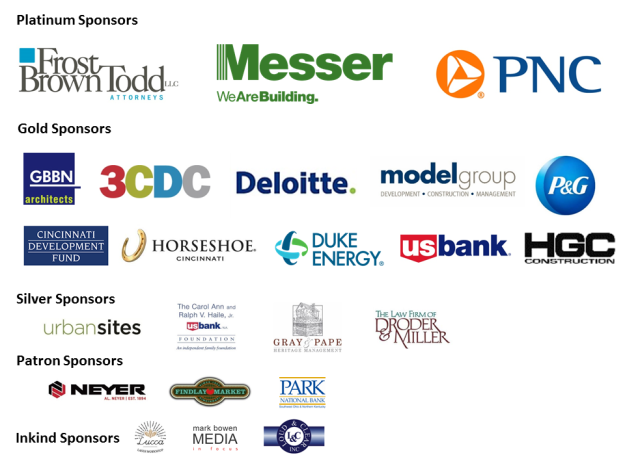 2015 Star Award Recipients:
Holtman's Donuts, Chairman's Award
FotoFocus, Norma Petersen Award
Peg Wyant, Grandin Properties for Emanuel Center, Property Development of the Year
Greater Cincinnati Film Commission, Community Impact of the Year
Maverick Chocolate Company, New Business of the Year
HighStreet, Business of the Year
Jai Washington, Individual Contribution of the Year
Elementz, Nonprofit of the Year
Rachel Roberts for Yoga on the Green, Entrepreneur of the Year
Salazar, Restaurant of the Year
2014 Star Award Recipients:
John Hueber Homes, Property Development of the Year
Believe in Cincinnati, Community Organization of the Year
Rhinegeist, New Business of the Year
Horseshoe Casino Cincinnati, Job Creation of the Year
Pet Wants, Business of the Year
Haile / U.S. Bank Foundation, Chairman's Award
Josh Heuser and Andrew Salzbrun, Agar, Individual Contribution / Ambassador of the Year
Cincinnati Symphony Orchestra, Norma Petersen Award
James Fisher, Roadtrippers, Entrepreneur of the Year
Sweet Petit Desserts, Food Industry Award
2013 Star Award Recipients:
A&L Properties, Chris Lacey and Lisa Altenau, Property Development Award
ArtWorks, Nonprofit of the Year
Bakersfield OTR , New Business of the Year
CORE Resources, Inc., Job Creation of the Year
Lang Thang Group, Business of the Year
Christian Moerlein Brewing Co., Chairman's Award
Joseph Schlimm, PNC Bank, Individual Contribution
KellyAnn Nelson and Christopher Eanes, YPCC, Norma Petersen Award
OTR Matters, Blogger / Media / Outreach Award
American Legacy Tours, Ambassador of the Year Award
Sara Bornick, streetpops, Entrepreneur of the Year
Schickel Design Company, Architecture Award